We can all relate to being immersed in our own worlds. Whether through demanding work, building and maintaining relationships, staying healthy, being a good friend, partner, daughter, or son—the list goes on. But what if overnight, you had to drop everything and cater to someone else's needs 24/7, forgoing your own life to become a full-time caregiver?
Last week, my daughter underwent a complex hip surgery that left her completely helpless to care for herself. She is a healthy young professional who has lived independently for years, but this surgery has left her temporarily bedridden and plugged into multiple machines every day since the operation. Even getting to the bathroom on her own is now a struggle. Enter Mom and Dad as temporary caregivers.
My husband and I have been hands-on around the clock as she slowly heals and gains her strength back to become independent again. Until then, I've had to put my life on hold to cater to her daily needs. "This is a taste of what it would be like to be a full-time caregiver for someone else," I said to my husband. Thankfully, this is a VERY temporary situation. But I couldn't help thinking, "What if it weren't? What if it were permanent?"
Here are just a few of the thoughts that have been running through my mind:
• What if there weren't two of us to share the burden?
• What if this weren't temporary? What if this were for the rest of my life?
• What if I couldn't work?
• What if I never again slept through the night uninterrupted?
• What if my life would never again be my own?
It's surreal when your career comes full circle with your personal life. In my professional life, I've learned about the emotional, physical, and financial consequences of needing to step up to the "Caregiver Plate". Fortunately, I haven't had to be a caregiver in my life up until this point, but know many who have. My gratitude abounds for the success of my daughter's surgery, knowing "this too shall pass", and life will resume back to normal in a matter of weeks.
Owning a long term care insurance policy means that our children won't have to find themselves stepping up to the "Caregiver Plate" to care for us as we age. Takeaway: It's better for your loved ones to oversee the care rather than needing to directly provide it as a designated caregiver. Why? For both mental and physical reasons, and to continue your same quality of life without putting yourself last.
So, how can you both fund and oversee care, while remaining independent? No matter what one's level of wealth, no one wants to drain his or her retirement funds to pay for care. Let a long term care insurance policy give you the peace of mind to know you won't be burdening your loved ones with your around-the-clock care responsibility.
Gratitude and careful planning can go a long way.
Have you ever had to provide ongoing care for someone unexpectedly? I'd love to hear your story. Please reach out to me at mpensack@ltciplanning to share.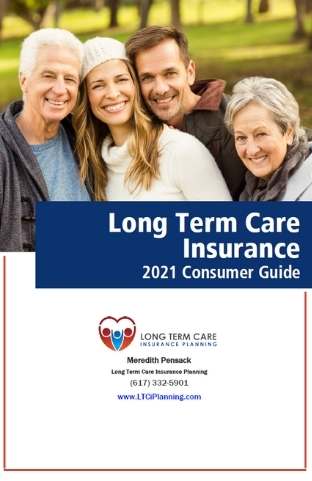 Complete this form and I'll send you a free copy of my Long Term Care Insurance Guide!